This summer, tvN is here to sate your appetite! Why not savour all the scrumptious delights while watching our delicious line-up of FOOD SHOWS at home, hassle-free! Irresistible right?
What's more? Not only are we here to deliver a feast for the eyes, we are also giving you once-in-a-lifetime incentives! Stay with us to find out how!
今個夏天,tvN要令你大飽「口」福!只要安坐家中便能用眼睛輕鬆嚐遍各種令人食指大動的美食,試問誰又能HOLD得住呢? 
잠깐만..等一下! 只有眼福又怎麼行?tvN 當然都準備了精彩的獎品啦~看下去了解如何贏獎嚕!
INSTRUCTIONS 遊戲玩法
1.   Snap a pic of your TV screen that features tvN Food icon together with any food scene to get 1 POINT 拍下tvN Food圖像連同食物的畫面,即可得到一分
2.   Click "Join Now" below to submit your images (we recommend you to submit in one go but if you have more to add, we also accept multiple submissions, but please use the same email address) 按下"Join Now"把照片發給我們 (我們建議你一次過上載圗片,如果你需要分幾次上載,記得使用相同的電郵地址喔)
3.   Contest period: Frow NOW to 30 September 活動於9月30日截止
*If you submit more than one pictures from the same episode, only a maximum of three points will be given*
*如果你於同一集節目中拍下多張照片,最多只會得三分*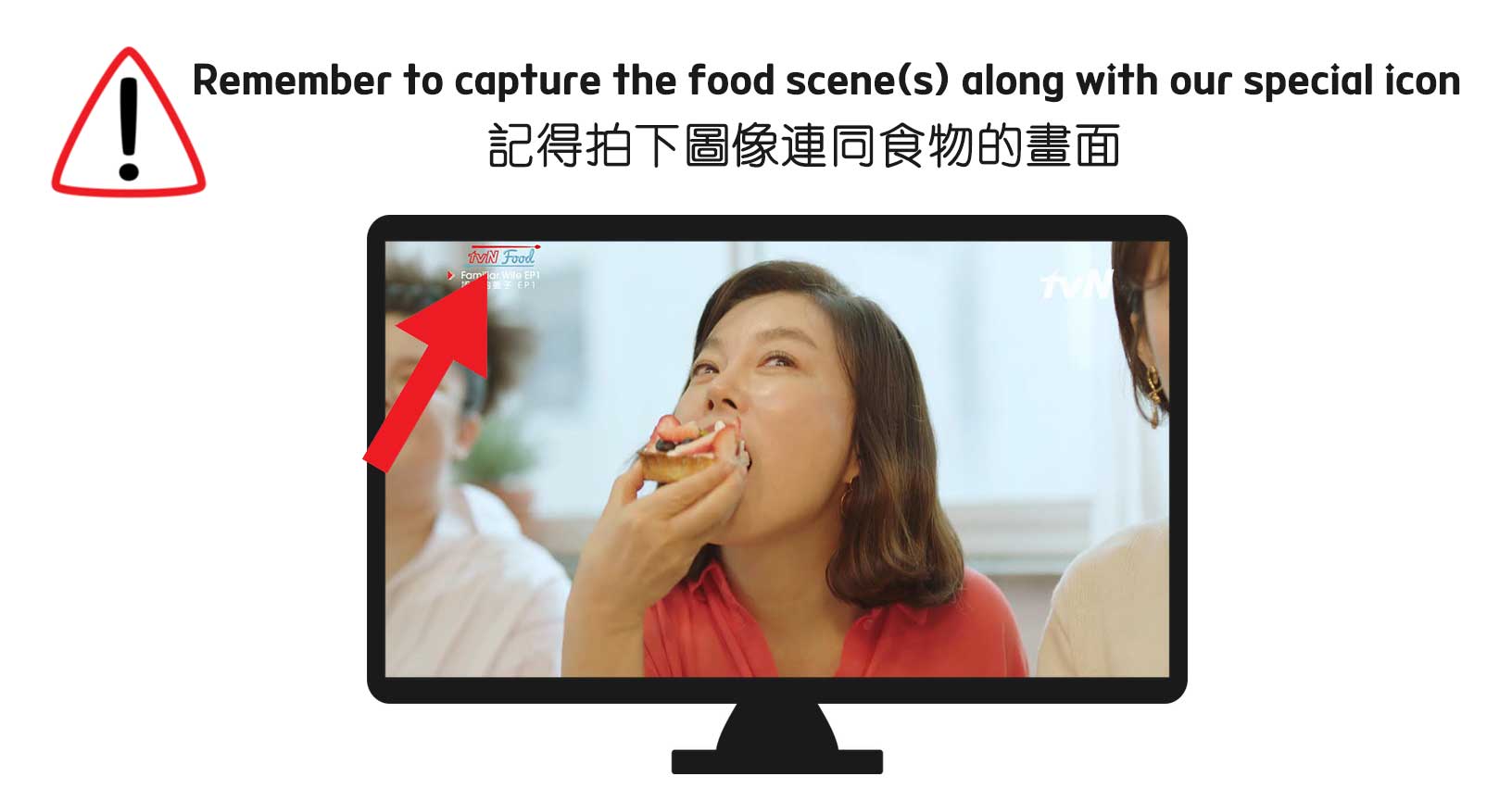 !HINT! 小貼士!
REMEMBER TO TUNE IN DURING THE FOLLOWING PERIOD !記得以下時段別走開喔!
!THE MORE YOU TUNE-IN & SNAP, THE HIGHER THE CHANCE TO WIN! 愈看得多, 愈拍得多, 中獎機會愈大!
LOOK AT OUR AMAZING PRIZES!豐富獎品等著你~
Join the tvN Food Contest now! 快參加tvN的有獎遊戲啦!
#tvNFOOD
Soul Food ‧ Show Good!
* CJ ENM HK RESERVES THE RIGHT OF FINAL DECISION AND INTERPRETATION IN THE CASE OF ANY DISPUTE.
*如有任何爭議,CJ ENM HK將擁有最終詮釋權。